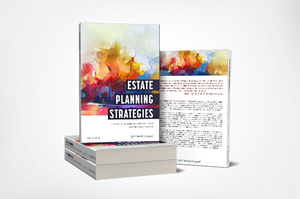 Estate Planning Strategies: Collective Wisdom, Proven Techniques of WealthCounsel Attorneys (Second Edition)
Sale price
$24.99
Regular price
$29.99
According to a recent survey, nearly two out of three adults have not implemented an estate plan to provide for their loved ones and settle their final affairs after their death. Estate Planning Strategies: Collective Wisdom, Proven Techniques of WealthCounsel Attorneys aims to reverse this trend and encourage everyone to make estate planning a priority, regardless of the size of their estate.
The strategies presented in this book will empower readers with knowledge about estate planning techniques that span the full continuum of the estate planning process, from the goals of estate planning and the documents generated in the process to planning for incapacity, tax minimization, charitable giving, retirement, and business succession.
The ideas in this book reflect the collective wisdom of WealthCounsel member attorneys throughout the country who recognized the need to compile a summary of common and effective estate planning strategies in use today. For more than twenty-five years, WealthCounsel member attorneys located in all fifty states have helped clients at all stages of life fulfill their estate planning objectives. As a membership-based organization made up of thousands of practitioners and users of the Wealth Docx® drafting platform, WealthCounsel and its member attorneys promote a client-centered approach to estate planning founded on the principles of legal competence, professional collaboration, and a commitment to excellence.
If you have questions, please email us at book@wealthcounsel.com.