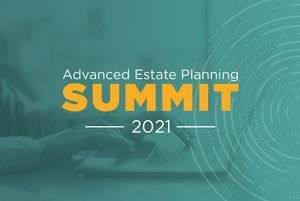 Advanced Estate Planning Summit - January 2021
Gain new insight and legal strategies for your law practice from some of the most prestigious estate planning experts presenting a deep dive into timely topics with WealthCounsel's Advanced Estate Planning Summit from January 2021.
Includes the Following Presentations:
Estate Planning with Retirement Assets - 

Christopher R. Hoyt, JD - University of Missouri School of Law

Trust Assets in Divorce - 

Sharon L. Klein, JD - Wilmington Trust

Pre-Transaction Planning for Business Owners - 

Benetta Y. Park, JD - J.P. Morgan Private Bank

Third Party Trusts are No Longer the Asset Protection Safety Net We Once Thought They Were - 

Mary E. Vandenack, JD, CAP® - Vandenack Weaver LLC

Scarier Than Lions, Tigers and Bears: The Income Taxation of Trusts, Oh My! - 

Justin T. Miller, JD, LL.M., TEP, AEP®, CFP® - BNY Mellon
CLE: 5.0 general credits
States Pre-Approved: AR, CA, CO, ME, NJ, NV, NY, OK, OR, PA, UT, VT, WA, WY
Eligible to claim credit: AK, AZ, CT, MO, ND, NH & TX
We will supply you with the information needed to apply in other states.
Contact shopcle@wealthcounsel.com for CLE assistance.
WealthCounsel members: This CLE eligible summit is complimentary for WealthCounsel members. It has been made available on the member website as five individual courses. You may access them by entering the presentation titles listed above into the course catalog search function here.
---
More from this collection